4 Nov 2019 — Third Warning
— Press Release: World scientists declare climate emergency, establish global indicators for effective action OSU, 4 Nov 2019
— Ripple, W.J., Wolf, D, et al. "World Scientists' Warning of a Climate Emergency," (WSWoaCE) Bio Science, biz088, https://doi.org/10.1093/biosci/biz088
— Alliance of World Scientists – 23,000 subscribing members from 180 countries; WSEoaCE 2019 Condensed Version
— "Climate crisis: 11,000 scientists warn of 'untold suffereing' – Statement sets out 'vital signs' as indicators of magnitude of the climate emergency, Most countries' climate plans 'totally inadequate' – experts," Damian Carrington, The Guardian 5 Nov 2019
---
The World's Scientists' Warning to Humanity actually dates back to 1992 when the Union of Concerned Scientists in Washington, DC, published this paper signed by 1700 scientists, including over half of the then-living Nobel laureates.
The first sentence says it all: "Human beings and the natural world are on a collision course. Human activities inflict harsh and often irreversible damage on the environment." And the warning was that "We, the undersigned senior members of the world's scientific community hereby warn all humanity of what lies ahead. A great change in our stewardship of the earth and of life on it is required if vast human misery is to be avoided and our global home on this planet is not to be irretrievably mutilated."
Very strong language. So did we change? Not much. Unfortunately our leaders did not take heed. Other things were pre-emptive in their minds than taking care of our common home.
Fast forward, 25 years in late 2017, another group of scientists published this peer-reviewed scientific paper in BioScience.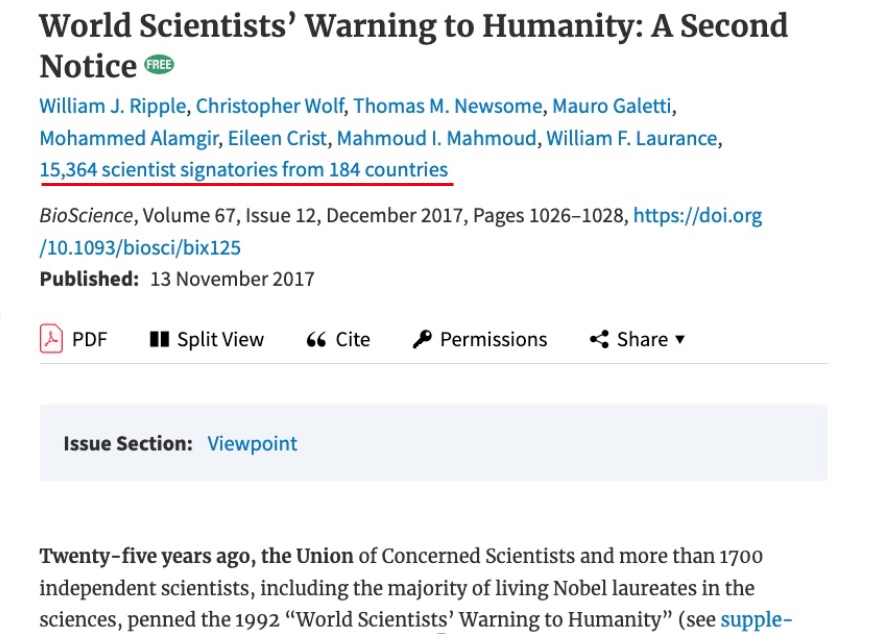 At its publication, it had been
signed by over 15,000 scientists
from around the world and an additional 8,000 or so have signed it since. It holds records in terms of the number of scientists who've signed it in citations. It is a very, very, powerful statement. But again, it does not seem to be that we are taking heed.
It made reference to the first Scientists' Warning and this one was called: "A Second Notice". My own feeling is that it should have been called: "Final Notice". I'm not sure we'll get another chance.
So, I'd like to go in very briefly to the ecological stressors that were cited by this Second Warning, the second notice.