↓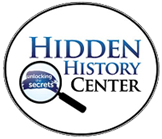 The Hidden History Center is a project of the Museum of Hidden History, a 501(c)(3) non-profit, established in Washington D.C. in April 2012.
The Mission of the Museum of Hidden History is to:
Preserve history that might otherwise be lost
Inform and educate the public about little-known aspects of local, national and international history, about actively hidden history, and about alternative perspectives on history
Encourage research and study of less-known modern history
Encourage the unearthing and exposure of new aspects of history
Educate the public about the importance of preservation and release of classified historical records, and about the importance of transparent government operations in the future
The Mission of the Hidden History Center
Under the auspices of the Museum, the Hidden History Center's mission is to:
Provide an archive and a library, both virtual as well as physical
Provide a mechanism for preserving historical documents, artifacts and research that might otherwise be lost
Establish a physical research and learning center, accessible to students and scholars
Build an expanding website, making a digitized copy of the Center's archive available to the public
The focus of the Center is to reveal information, raise questions, and provoke discussion, rather than to assert a particular point of view or set of conclusions.
What is Hidden History?
Hidden History is:
What we do not see because of our assumptions and mis-education
What we cannot see because of our paradigms and lack of counter-narratives
What we are not allowed to see by the National Security State
At the Center, we will present narratives of the U.S. historical record that you've never heard – secrets about powerful figures, operations performed under the radar, and actions hidden from the public, that changed our country.
We will reveal history from many perspectives, including those of women, ordinary people, people of color, alternate historians, and others whose voices have yet to be heard and whose stories remain untold. They are part of our real but hidden history.
We will use new archives, documents, and research to unearth dimensions of history that have been lost, distorted, or omitted, and also to inform regarding our own true history, kept from us for decades but now, by degree, "declassified" and open to the public.
Our history is in danger of being lost.  The true history of the colonization of North America by European settlers, which became the United States, as well as recent history from World War II forward, has yet to be accurately and honestly told.  In the near future, countless books, records, documents and archives of hidden history will either be preserved or destroyed.  We have begun the process of protecting them and supporting the full release of government files still buried in the name of national security.
Historical truth matters and access to real history is critical!  Our history informs our present and our future.  Accurate information that promotes critical thinking is the most important tool in a real democracy of the people, by the people, and for the people.