How Will We Challenge Militarism, Racism, and Extreme Materialism?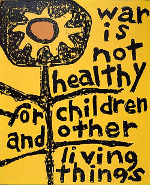 "The Children of Vietnam" provides an instance of truth force that is needed now more than ever to counter the fragmentation and doublethink being amplified by the demands of capital and its accumulation. Because, tragically and horrifically, what the United States caused to happen in Vietnam has not stopped. It continues to this day, magnified on a global scale within numerous theatres of U.S. military and covert operations including in Iraq, in Afghanistan, in Yemen.

In denouncing the U.S. war in Vietnam at Riverside Church in 1967 Martin King posed the question on behalf of Vietnamese peasants: "What do they think as we test out our latest weapons on them, just as the Germans tested out new medicine and new tortures in the concentration camps of Europe?" And this was a war that ended up being broadcast on nightly news television in the United States as it became evermore hellish in its results. Said King at Riverside, "When machines and computers, profit motives and property rights, are considered more important than people, the giant triplets of racism, extreme materialism, and militarism are incapable of being conquered." His voice, love, compassion, and intelligence are as searingly relevant right now, half a century later, as in 1967.
This is an exposition of the photographic essay by William Pepper about the children of Vietnam that Martin King first saw on January l4, l967. Initially, while he hadn't had a chance to read the text, it was the photographs that stopped him. As Bernard Lee who was present at the time said, "Martin had known about the [Vietnam] war before then, of course, and had spoken out against it. But it was then that he decided to commit himself to oppose it." Pepper's essay contains the most powerful creative energy on earth: truth force. It is as relevant 50 years later as it was in 1967. Martin King steadfastly exhorted all to confront and grapple with the triple prong sickness—lurking within the U.S. body politic from its inception—of racism, extreme materialism, and militarism. These evils require us to respond with life-giving intelligence, to change course away from the nightmare path we are pursuing, and towards, in Coretta King's words, "a more excellent way, a more effective way, a creative rather than a destructive way." All of us in the United States are the ones best positioned to challenge the destructiveness of the three prong sickness destroying our civilization and the Earth and change direction towards affirming life in all its variations and sacredness. We have choices and power here that the majority of humanity do not enjoy. The choice and the power resides within us. And the choice to recognize that power, and take responsibility for it to make this into a world where all of us can live together in peace and fellowship   s i t s   r i g h t   h e r e.