2016 was a momentous year for the Hidden History Center.
In September, we moved the John Judge collection to its new location at Hayshire Plaza, 2915 North George Street, Suite 2, in York, PA. This is a spacious first-floor location, just over a mile from the North George Street exit off I-83.
Since our move, we have been busy organizing the over 800 boxes of books and archive documents in the collection.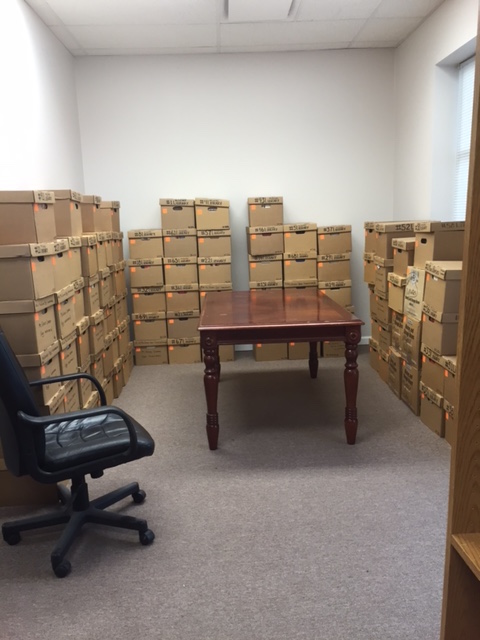 MCGEHEE LIBRARY ROOM
One of the rooms at the Center contains the collection of Ralph McGehee, a disaffected CIA agent who donated his collection to John Judge. The collection, now on loan to the Hidden History Center, covers U.S. covert actions conducted planet-wide. This collection of approximately 100 boxes is partially inventoried, using an app called "Book Crawler." Work is proceeding to complete this inventory.
POLITICAL BOOK ROOM
The largest room at the center is the room we call the Political Book Room. It contains nine filing cabinets and approximately 200 boxes of political books that were in the library of John Judge. Some of the books would be easily available from other sources and there are also some rare, one-of-a-kind as well as autographed books. All of these books still need to be inventoried.
There are also two rooms at the Center called the Archive Rooms. They contain approximately 285 boxes of documents, photos, and video and audio tapes. All of these materials were in the collection of John Judge and are now on loan to the Hidden History Center. Our plan is to sort all of these materials into categories, as well as digitizing and make them available online. We have set up a filing system and are beginning to sort the 285 boxes of papers.
PERSONAL BOOK ROOM AND OFFICE
We have also set up an office for our Executive Director, Marilyn Tenenoff, in the room that contains John Judge's personal book collection. This room contains mementos of John, as well as 80 boxes of his personal books. It is filled with his presence.
As you can see, this is a huge project. There is much to be done. We are working to create a user-friendly library and research center and to set up a workable office for our Executive Director. We are devising a master index and cataloging system by which to organize the collection.
This fall, we will be receiving a donation of digitizing equipment, generously contributed by our Assistant Director, Dave Ratcliffe. We will then be able to begin scanning documents on a large-scale basis.
If you are located near York, Pennsylvania, and would like to help us inventory books and sort and scan documents, please sign up for our mailing list and let us know you have an interest in helping.